being so far away from "home" has some real disadvantages sometimes.
i find myself really out of the loop, between the time difference and growing up and having such busy lives and, you know, everything. for example: one of my dearest childhood friends is fighting for her life, and not for the first time. it happened suddenly (as it had before) and i hadn't really heard much news, just that she wasn't doing well.
now her amazing family has started a blog with updates and to raise a little money to help with medical bills. since i can't be there physically, i thought maybe i could help a little by putting together a couple of blog buttons to direct those who would like to donate.
if you know lindsey, put one of these buttons on your blog to help spread the word to those who want to give their love and support.
if you don't know lindsey, feel free to do the same.
if you do anything at all, keep her in your thoughts and prayers.
oh, and be sure that you're living well and laughing often, because she would want you to do that for her.
and if you're ever at taco amigo late at night, be sure to do the running man out on the sidewalk so that everyone driving down state street can see you -- because she would want you to do that for her, too. :)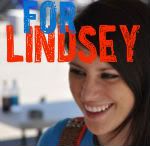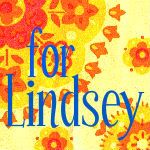 get the buttons by copying and pasting the codes on the side of my page.
go to her blog by clicking on my buttons or click
here
.
read a little of lindsey's story in her own words
here
.