just had to share my thrifty luck.
pottery barn duvet cover and shams: $6.98
that's right. you heard me.
used, yes, but nothing a little wash with my favorite lavender-scented gain wouldn't fix.
i love them. ellie loves them. i don't think husband loves them, but he can't complain. they were practically 95% off. he did mention that the cover was "soft" last night, so maybe he likes them after all.
i also got a lovely banana republic cowl neck sweater and a sweet merona dress.
i don't even feel bad about bringing more stuff into the house because i donated a dog halloween costume, some old curtains, a weird ceramic pot and some other my-trash-someone's-treasure items before i shopped.
i have been blessed with the patience to sift through absolute garbage and find something great. i've also been blessed with "the eye" - i can easily spot something with potential amid the castoffs. i truly love good days at the thrift store. it's in my blood.
(when it comes to furniture, though, i can't find anything reasonable out here. even garbage is $30+.)
oh, and i'm almost finished sprucing up bean + boo's room. most of the stuff in there was thrifted, too, and it is turning out to be the perfect place for little girls to spend time. i'll post pictures of that eventually.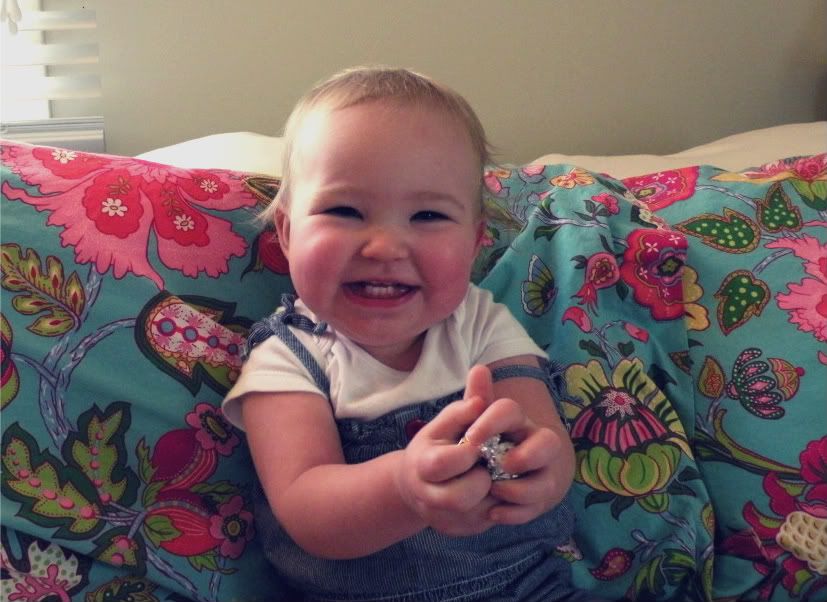 (why, yes, she does have a handful of candy wrappers in her little mitts. and yes, that is why she is smiling. not because she ate the candy, but because she thinks she is being naughty and she loves it.)