playing in the dirt
daddy: "poppy, i love you!"
poppy: "wuff you!"
daddy: "ellie, i love you!"
ellie: "daddy, i like you."
daddy: "what about love?"
ellie: "what about like?"
sunday skype storytime
the whole family watches project runway, a "mommy show." it's a competition for fashion designers and they show their different garments on the runway.
so the girls and i are at target...
e: "mommy, did somebody make that dress on the fashion show?"
me: "well, somebody made that dress, but not on the show."
e: "oh. mommy, can you be on the fashion show?"
me: "you mean i make the clothes or i walk on the runway?"
e: "you can walk on the runway, mommy, and daddy can make you a beautiful dress to wear."
me: "that sounds like a great idea."
e: "yes, and the losing team WILL BE OUT."
(maybe you have to watch the show to fully understand that one, but i am still cracking up about it. she sounded just like heidi klum. i'm also flattered that she considers me a runway model.)
being dangerous, at usual
eleanor always wants me to "announce" her.
example:
"presenting the beautiful, talented, the amazing eleanooooor fowler!"
and she'll present poppy and me, too.
she is obsessed with this nature show and now has all kinds of animals facts in her back pocket.
"i know about basilisk lizards that walk on water!"
"i know about sperm whales!"
"i know about beavers! they have orange teeth!"
"is that an animal from south america? is it from africa? i think maybe it is from north america."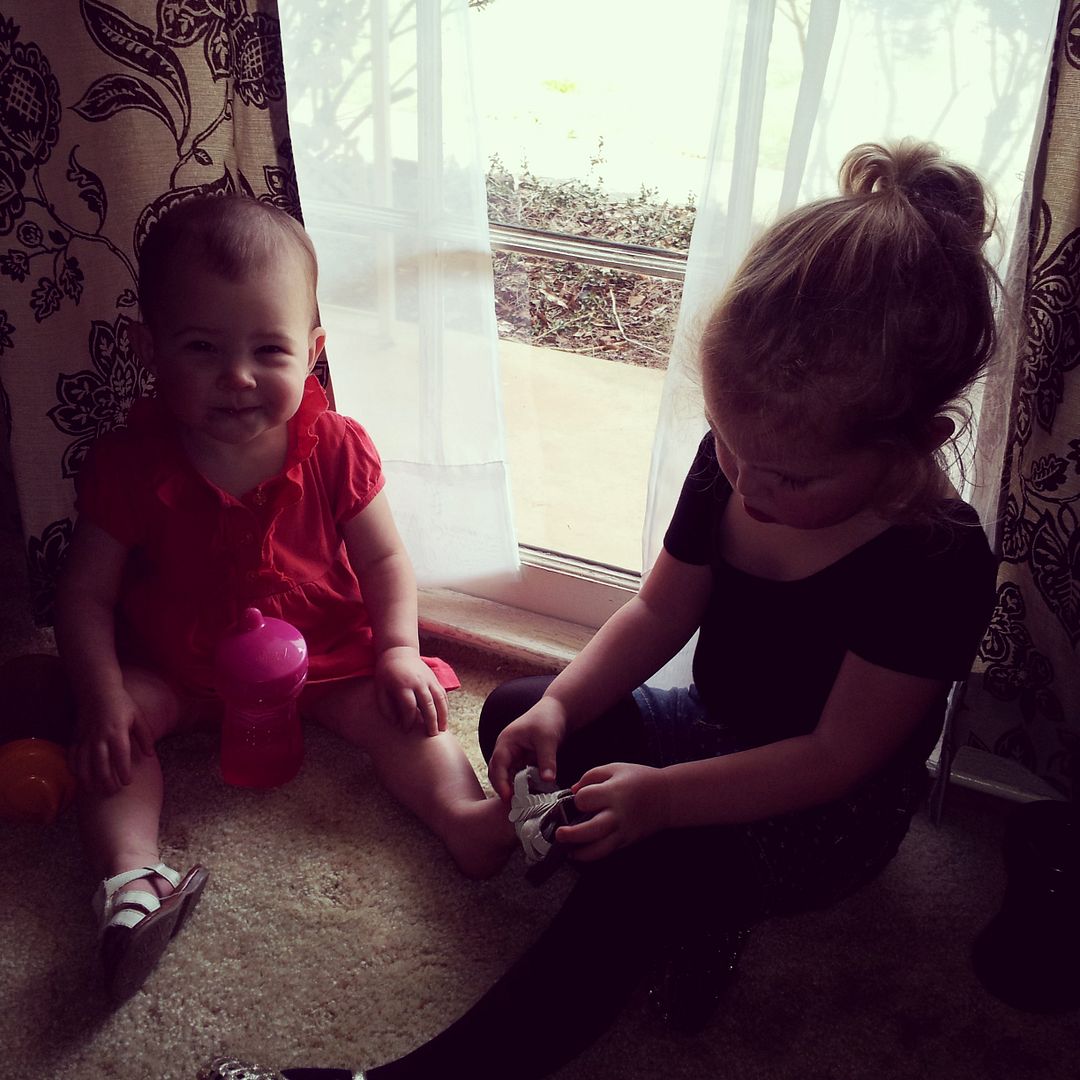 helping with shoes
on the pet aisle:
e: "look, kitty food. i think we should get a kitty. we could have a doggie and a kitty."
me: "well, we can't get a kitty, honey. they make daddy sneeze and sneeze, so they can't live in our house."
e: "well, when i get big i'm going to get my own kitty."
then at home, when we let judge out to go potty:
e: "don't close the door! i'm waiting for my kitty to come inside."
and poppy's first "quote"
poppy: "butt."
she loves to point at her own butt and ellie's butt.
truthfully, "butt" also means button and when she wants a bite of something it sounds like "butt", but she really does love to point out butts. and laugh.