out in the backyard in athens.
this is a bit of a ramble. it's an explanation. i have a lot (like a
LOT
) more feelings about all of these things. this a brief summary of everything that happened during the time i was m.i.a. from the blog, so y'all can catch up if you want.
my pregnancy with evangeline was one of the reasons i didn't blog for so long. man, it was rough. i can't complain too much, because i know many (
many
) people out there are struggling to have families, BUT. we had a completely different experience. we barely talked about having another baby and immediately got what we wanted. i mean, i expected to get pregnant but i also expected some time to
try
to get pregnant and to get ready (as ready as anybody can be, i guess). i thought maybe i'd have time to have everything in my life a little more organized. i imagined a spring baby. so when a couple of weeks after we decided to work on little no. three, ellie told me: "mommy, i'm going to have a little sister and she's going to be born before christmas" i laughed it off. i was still laughing a couple of weeks later when i discovered she was right.
at the end of april, i got sick. then sicker. it all started with a stomach bug, which i mistook for morning sickness until the rest of the family got just as sick as i did. that was a weekend to remember. we moved from bed to couch to bathroom, barely awake. i couldn't keep anything down and almost ended up getting an iv for dehydration. after a week everyone started getting better, but i stayed pretty sick. i spent two months just surviving, constantly in a fog of misery. i couldn't stand the smell of the stove or oven getting hot, so even just boiling water sent me running for the toilet. i had to put all of the spices in the garage because i couldn't go in the kitchen if i could smell them. even the smell of bread made me gag! every time i went into a grocery store i literally prayed that i would be able to manage the sights and the smells without ending up on the floor. once i even vomited so hard i scratched my throat bloody and had petechial hemorrhages around my eyes. i would just barely make it through the day, then another, then another.
how i survived morning sickness: sitting on the beach while the girls played.
i was really thankful for people who brought food and helped us out, because i was living off whatever sounded good (which was mainly gatorade, cheetos, and soft pretzels). around mid-june i started feeling better, but only just. i still feel like i lost weeks of my life during that time. as the summer began, i slowly came out of the haze. i could cook and eat again for the most part, but i still had almost no energy. every once in a while it would hit me all over again out of nowhere. at the same time it started getting easier physically, though, it started getting much harder emotionally.
several of our close friends experienced major, devastating changes in their lives during that summer. it was heartbreaking to watch families that we loved so much simply fall apart. i was so grateful for my boring, sweet, imperfect life. then, suddenly, our life decided to get not-so-boring after all.
in the fall, we learned that the house we lived in in athens needed to be sold. everything lined up just right for a really difficult transition. we didn't want to move when i was super pregnant or with a newborn, and we needed some time to make new plans, so we made the choice to move in with the husband's parents for a little while. it all happened in a matter of days. ellie had to leave her pre-k class after only two months. we had to say goodbye to our home after six years, the only home my babies had ever known. it was only 45 minutes away, but it felt like a whole other world.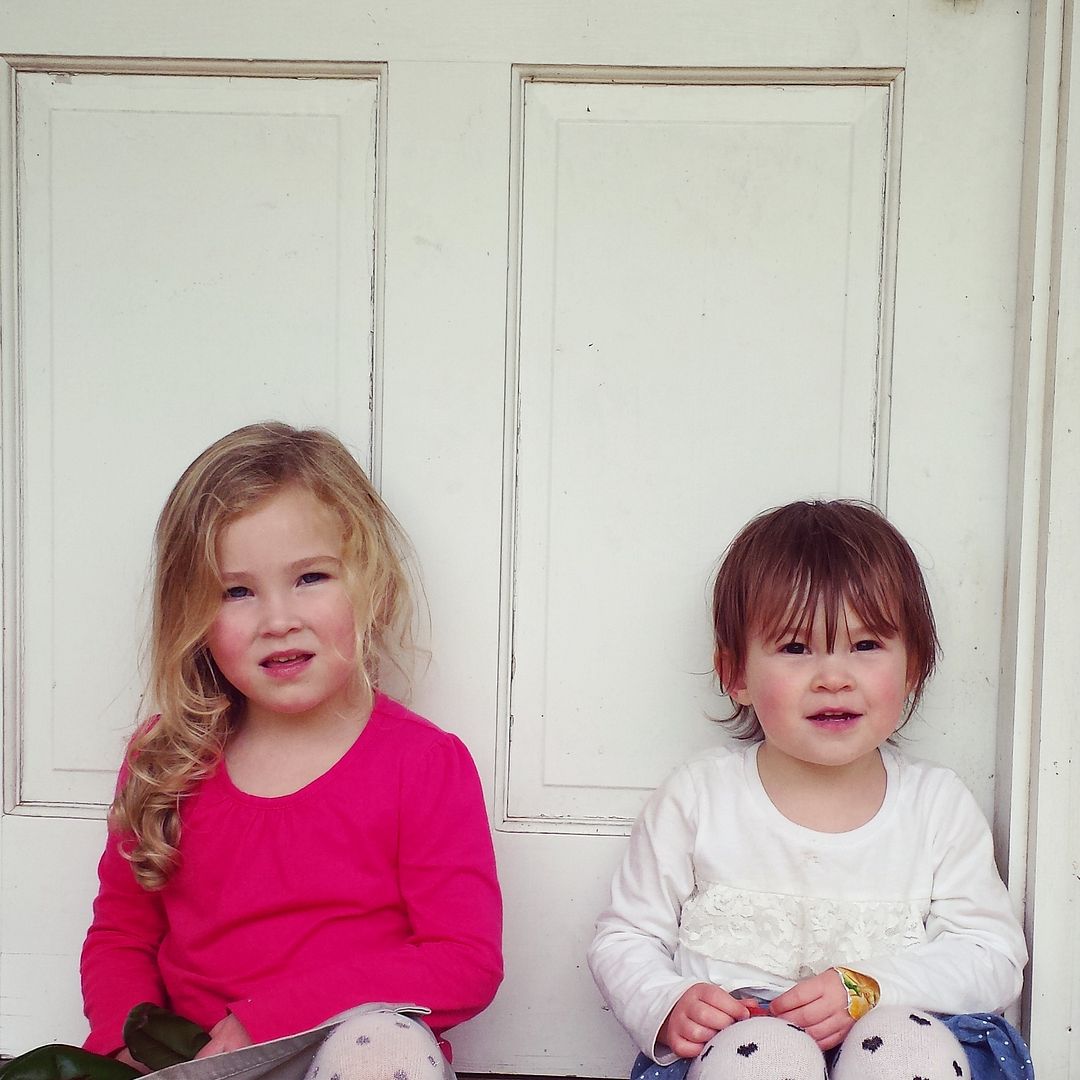 pretty babies saying goodbye to the athens house.
living with the grandparents (and a bonus uncle) was hard. and fun. and crazy. and frustrating. and stressful. and beautiful. we were really, really lucky. our family is too good. the kids and the grandparents were so happy together and i love that my girls had that special time there. it was nice to have that extra support through the end of that rough pregnancy, then again with a brand new baby, and some unexpected medical issues with poppy. we made really great friends, spent a lot of time as a family, and i think it made us all stronger.
it also pushed us in an entirely new direction. the husband had been doing school online for a while, but with all the changes we wondered if it might be the time to go back to a campus to finish (or start?) school. as we looked into our options, it all started coming together. he applied and was accepted into school back in utah. it was a huge, exciting, terrifying leap. knowing that we wouldn't be able to see our georgia family for a while, the time we spent living together was all the more precious. we had to make a lot of tough decisions, including what would happen to our sweet old boy judge. he wasn't doing so well physically. we were able to get him into a rescue program but it was really hard to say goodbye to our friend after eight years. it was hard to say goodbye to all of our friends and family in georgia. we had made such a wonderful life there and it broke my heart to go, but this new opportunity was the best thing for us.
poppy taking a leap of faith into grammie's pool.
my sister flew out and she and i drove across the country with the kids in july (which is a whole other story). the husband stayed for a few more weeks, then joined us in utah. everything fit together like a puzzle: jobs worked out, hand-me-down furniture magically became available, and we were able to rent the most perfect little house. our friends and family were so helpful and made the move easy. now that we've finished the first year of this school adventure (with high grades might i add!), i know that everything that happened was working to get us to this point. we're busy and happy and we're working hard to get where we want to be as a family.
hopefully that's enough of an update to explain the past two years. life has been hard to us but sweet to us. so far, i've found that life just gets harder but it also gets so much sweeter -- and i'm ready for it.